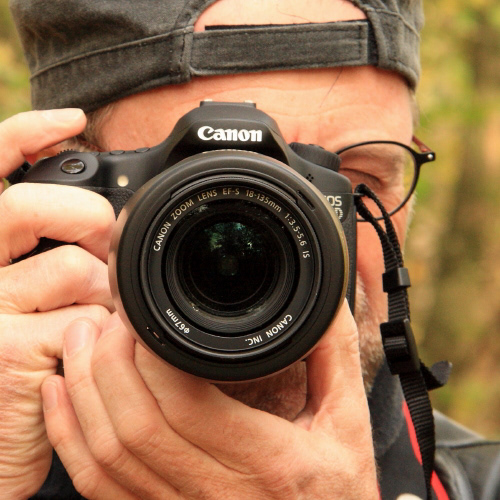 Welkom op deze website.
Mijn naam is Adri Voogdt.
Een korte introductie: Al weer heel wat jaren geleden kreeg ik te maken met het "fotografie-virus". Met mijn eerste Canon spiegelreflexcamera heb ik de eerste stappen gezet in deze mooie hobby, die ook wel "schilderen met licht" wordt genoemd. Het belangrijkste deel van mijn leercurve was zonder twijfel het anders leren kijken naar de  dingen en onderwerpen. Veel heb ik geleerd door honderden foto's van bekende en beroemde fotografen te bekijken. Natuurlijk werd het ook steeds belangrijker de techniek van je camera en apparatuur onder de knie te krijgen om zodoende steeds betere foto's te kunnen maken. Als lid van fotoclub FC Dow heb ik zeker geleerd om kritischer naar mijn eigen foto's te kijken. En.... iedere dag opnieuw leer ik nog bij in het uitgebreide scala van de fotografie.
Het maken van een mooie geslaagde portret-, landschap- of straatfoto is, is voor mij het belangrijkste aspect, waarvan ik nog steeds geniet.
Hopelijk bevallen de foto's op deze site u ook.
Onder
"Projecten"
en
"Shoots"
vind je diverse onderwerpen terug. Soms betreft het speciale opdrachten, maar dikwijls ook vrij werk, als voorbeeld van gemaakte foto's.
Mijn meest gebruikte camera is de Canon EOS 5D Mark III, met diverse lenzen en hulpapparatuur, te gebruiken afhankelijk van het onderwerp en of het buiten is of studiowerk.
Bedankt voor uw belangstelling en hopelijk tot ziens op deze (regelmatig ge-update) site.
Adri
--------------------------------------------------------------------------------------------------------------------
---------------------------------------------------------------------------------------------------------------------
Welcome to this website.
A short introduction of myself:  A lot of years ago I was caught by a virus called "Photography". Starting with the a first DSLR camera of Canon I made my first steps in the wold of  "painting with light". Most important part of the learning curve in the following years was to "look in another way" at a lot of subjects. Mostly by looking at photos of well known and famous photographers. The second lessons were was to get familiar with all technical aspects of making the right picture and getting to know the camera and other equipment. Being a member of a club (FC Dow) helped me a lot to be self-critical on my work. Everyday again I'm still learning, hoping the next picture will be better than the one before.
Most of all I really like to create the right photo, whether it's a portrait, a landscape, the street or everything worthwhile to make a picture of. I still enjoy this every day again. Hope you will like the selected photos on this site.
You will find a part of my total portfolio in the "
Projects
" and "
Shoots
"  with a lot of diversity in the chosen subjects. Some are part of a customers order, some are just here as an example of my work.
Most of the time I work with the Canon EOS 5D Mark III and several different lenses, depending on the subject. Indoor work is normally done with studio lights as well as day-light lamps.

Hope you will be back to see more of my work after regular updating of the site

Best regards,
Adri